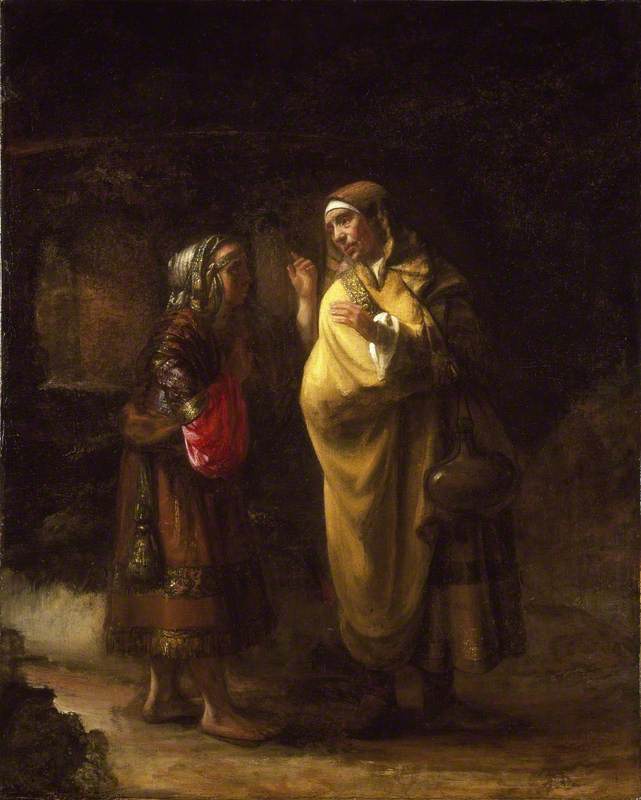 Twenty-Second Sunday After Pentecost
Ruth 1:1-18 and Psalm 146
Deuteronomy 6:1-9 and Psalm 119:1-8
As a child of the 1970's who is deeply in touch with my feminist rage, the book of Ruth has always been a challenge to me. And most of the time, like this week's text limiting the story to Ruth begging to stay with Naomi, we prefer to focus on the beauty of Ruth's love for Naomi and on her willingness to abandon her own culture, her own people and her own gods in favor of the God of Israel. But for me, too much of this story relies upon three women stuck in a patriarchal society who face possible starvation and absolutely certain hardship, not because they were lazy or incapable, but simply because they had the misfortune (or strength?) to outlive all the male breadwinners in their family.
As we walk with Naomi through the brief details of her life provided in this week's text, we can choose to see the sources of her economic and social vulnerability if we trace the story carefully. First with her husband and sons, Naomi endures the horror of a famine in Judah, causing the family to flee from Bethlehem into Moab. Next, with little description of the details, we see hints of the cultural challenges introduced by their sons choosing Moabite wives, Orpah and Ruth, quite possibly because there were no suitable women for them to marry. At this point, life seems difficult and far from ideal, certainly not what they dreamed for themselves, but manageable. 
It is the death of first her husband and ultimately both of her sons in Moab that exposes her vulnerability when Naomi is left alone with her two daughters in law with seemingly no recourse but to return to her own people in Judah. She is a stranger in a strange land in which she has no legal standing, no extended family, and no social structures to support her. The only thing she knows to do is to go home to Judah where she hears the Lord has had compassion on His people and has resumed providing food. In Judah, she can hope that her people will remember her and welcome her home.
But even if the folks back home do not remember her, Naomi clings to the hope that through His people, the Lord will provide for her as promised (Psalm 146:7, 9) for it is the Lord "who executes justice for the oppressed; who gives food to the hungry…The LORD watches over the strangers; he upholds the orphan and the widow." Naomi dares to trust in these promises. And although Naomi's God is not a god that Ruth grew up with, she dares to trust in Naomi's faith that provision will be made to them through God's people. So, against many odds, they weep, they embrace, and Ruth makes promises she does not truly understand. And then they begin the painful, dangerous journey home with no male relatives to protect them or provide for them.
It is perhaps difficult for us to fully empathize with Naomi's situation from our comparatively comfortable contemporary position. Regardless of the critiques we might justly level at our own governments, our own communities, and our own extended families, today's orphans and widows (and single parent households) at least have something to catch them when extended family and community resources fail them, as imperfect as those social systems are. I have heard a few scathing critiques of Naomi's bitterness, most often from people who have never known the terror of Naomi's situation or the powerless position she was in as a woman. Rather than judging Naomi harshly, we ought to commend her ingenuity, her deep faith in God's provision and her willingness to release all she had left by encouraging her daughters in law to return to their own families instead of obliging them to stay with her which was her right. I doubt that any of us are capable of much more than this under these excruciating conditions and heartbreak.
If you have read the rest of the story in the book of Ruth, you know that ultimately it is Naomi's clever and daring scheme to marry Ruth off to Boaz that really saves the day. While Naomi is described as bitter and despondent (perhaps even clinically depressed in her grief and trauma), Boaz is framed as the good guy who does right by poor Ruth, who we already know to be a remarkable young woman and to boot, Ruth seems to have been an attractive choice for Boaz if we read between the lines. So, Ruth and Boaz get to live happily ever after in newly wedded bliss. All's well that ends well, right?
Well, maybe. What the story does not reveal is how Naomi and Ruth were received when they arrived home exhausted, starving, and alone. There is no evidence that anyone threw open their door, butchered the fattened calf, and had a party for them. There is no mention of them being given shelter or protection of any kind. And friends, this is a problem.
But here again, Naomi shows her deep understandings of the Hebraic societal laws when she sends Ruth to glean in her husband's relative's field, for gleaning was a protected practice instituted by the Lord for widows just like Naomi. And Ruth is quick to see how she can be discovered by Boaz as she gleans in his fields. And our hero, Boaz, makes everything easier by getting drunk after a harvest celebration and waking up to find this pretty young widow in his bed.
And while we mostly choose to see the charming parts of this love story, what we often miss is that Boaz and his neighbors failed to notice two starving widows in their midst and failed to offer food and shelter as the Lord commanded his people to offer widows and strangers among them. Quite simply, the story did not have to go this way, but it did because it was easier for people to turn a blind eye, to leave the edges of the fields to these women and hope that they would be content to ask for nothing more.
But Naomi, even in deep grief and pain, chooses again and again to dare to hope in God's provision for Ruth and for herself. And the Lord allows circumstances to work out as Naomi hoped. The Lord goes one step further and affirms the faith and daring of Naomi and Ruth by including them in the direct lineage of King David and ultimately, Jesus. And that is seriously beautiful. But for us today, I think the challenge is to learn from the failures in the communal systems and covenantal expectations for the ways that strangers and those without families to be welcomed into our communities and cared for generously. If Naomi and Ruth wandered into your neighborhood, what welcome might they find? We are called to heed the wisdom of Jesus, who declared when asked what that the greatest commandment is, answered,
The first is, 'Hear, O Israel: the Lord our God, the Lord is one; you shall love the Lord your God with all your heart, and with all your soul, and with all your mind, and with all your strength.' The second is this, 'You shall love your neighbor as yourself.' There is no other commandment greater than these (Mark 12: 29-31).
And if we learn to dare to heed these words faithfully, perhaps we too will be "not far from the Kingdom of God" (Mark 12:34).